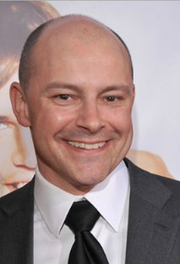 Rob Corddry has become one of the most popular and most-used of "The Daily Show" correspondents. More so than other interviewers on that show, he almost always embarrasses or insults the subjects of his stories. He is the brother of Nathan Corddry.
His real-life wife, Sandra, appeared in a sketch about him becoming obsessed about having a threesome. He is a member of Theta Chi Fraternity (Theta Chapter, University of Massachusetts). His daughters are Sloane Sullivan Corddry (born, July 3 2006) and Marlo Stevenson Corddry (born, November 12, 2008)
Ad blocker interference detected!
Wikia is a free-to-use site that makes money from advertising. We have a modified experience for viewers using ad blockers

Wikia is not accessible if you've made further modifications. Remove the custom ad blocker rule(s) and the page will load as expected.